Belle is about possibilities, justice and romance.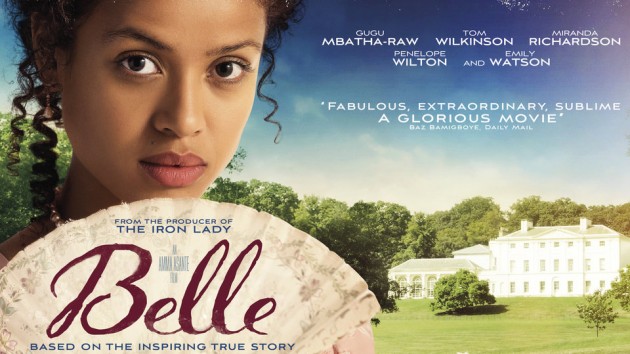 Belle shares the inspiring real-life story of mixed-race Dido Elizabeth Belle (Gugu Mbatha-Raw), who is born illegitimately of Captain Sir John Lindsay (Matthew Goode) - an 18th Century Royal Navy admiral. The film documents Belle's distinctive journey of being raised as an aristocrat in her great-uncle's household alongside her cousin Elizabeth Murray (Sarah Gadon). Belle's lifestyle and position within her family is based on the conditions of societal norms and of course classism - a narrative that's not far removed from the dominating narratives of the history of black people in 18th Century Britain, yet the film is a must-see as it focuses on a single story rather than a general one - subjecting the viewer to a focused narrative of an important historical figure whose story is about possibilities, justice and romance.
"What is right can never be impossible" -- Sir John Lindsay
The film commences with the search of Belle by her father who then takes her to Lord Mansfield's (his uncle) house and presents her as his child and asks of his uncle to look after her. Bound by family loyalty, Lord Mansfield agrees. At first, Lady Mansfield proposes that Belle be raised under the guise of being Elizabeth Murray's playmate because of their concerns as it relates to Belle's ethnicity and the Lady and Lord Mansfield's position in society. As Dido and Elizabeth grow up, they form a strong sisterhood...then enters men...love and the possibility of romance with Lord Mansfield's legal apprentice - John Davinier (Sam Reid) in the midst of the influential and historical, Zong ship trial.
It is around the proceedings of this trial that the audience sees the relationship between Dido and John grow. They come together and their union is solidified as she conspires with John by providing evidence which eventually then goes on to prove slavery as inhumane and arguably inspires Lord Mansfield - Britain's most powerful judge and Lord Chief of Justice at the time, to declare the slave trade as 'so odious that nothing can be suffered to support it'.
The story of Belle is one that's intriguing as is the painting that inspired the film. The portrait by Johann Zoffani is the only existing portrait of Belle and has been the subject of analysis of many history, culture and arts critics through the centuries. In the article by The Independent, Holly Williams quotes director Amma Asante's admission that "I always wanted to do a costume drama but I needed something to hang my hook on". The hook which Asante speaks of is the Zong trial. On her desire to adopt the film, Asante further comments that: "I've never seen a film about the Jane Austen elements we know so well – the marriage market, the lives of girls growing up into society ladies, the romantic longing – combined with a story about the end of slavery".
The story of Belle is groundbreaking in the world of British periodical dramas. Its impact is that, it includes the narratives of Blacks and acknowledges their participation in British history.
BELLE features a solid cast including: Gugu Mbatha-Raw as Dido Elizabeth Belle, Oscar nominee Tom Wilkinson as Lord Mansfield, Sam Reid as love interest John Davinier, Sarah Gadon as her cousin and companion Lady Elizabeth Murray, Miranda Richardson as Lady Ashford, Penelope Wilton as Lady Mary Murray, Tom Felton as James Ashford, James Norton as Oliver Ashford, Matthew Goode as Dido's father Sir John Linsday and Oscar nominee Emily Watson as Lady Mansfield.
BELLE is released in cinemas nationwide on June 13th 2014