Mastering Eyes with Funmi Odegbami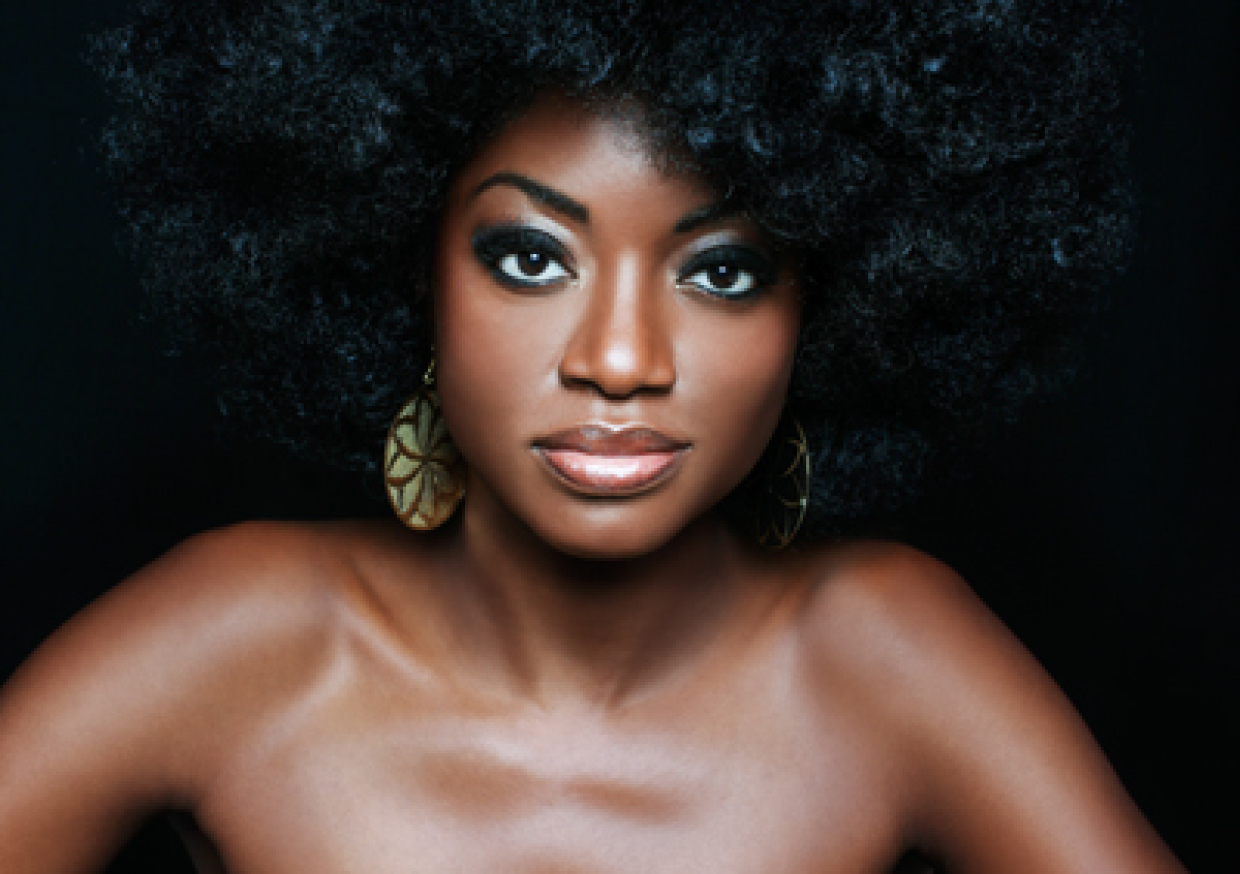 Funmi Odegbami is all about knowledge.  She is the CEO of MiNK London, owner of the onlineschoolofbeauty.com, founder of Makeup Show Live, co-founder of London Beauty Festival, a member of the Black Women in Europe Power List, author, speaker and multiple award-winning makeup artist.  Funmi is enabling professionals and beauty enthusiasts to acquire accredited beauty skills, which can be applied to women of all colour.  Having already achieved great heights, we talk to Funmi and find out her journey is far from complete.
Lots of people get involved with something or start something with an end in sight.  I keep an open mind and enjoy the journey I am on.
Tell us about MiNK.  What does the name mean?
MiNK has connotations with high quality and the colour of the mink animal is black and brown.  I wanted something to represent brown and black beauty; high quality and luxurious.  I did a lot of research and came up with MiNK.  I also came to find out that the mink is the only animal in the world that can't get skin disease because of the quality of its fur – its fur is also naturally water resistant.
I felt that for this reason MiNK was an adequate name for what I was trying to create: strong, resilient and high quality.  The name itself is also easy to remember and has just one syllable.
What drew you to the beauty industry?
It was a pursuit of knowledge.  I have always been a beauty junkie and always wanted to experiment with makeup and cosmetics.  What took me further was that I wanted to do a course and improve my own personal skills, but struggled to find a course in the UK that catered to the specific makeup needs of darker skin.  The only courses I found for darker skin were in America.  So in 2006 I attended a Black Beauty workshop at The Makeup Show in New York.  This is where I gained invaluable information and I learned a lot of beauty basics for women of colour, like how to care for black skin and the importance of contouring.
I found it increasingly concerning that in the UK I did not learn any of this information.  This pushed me to address the issue.  When I finished the course, I started my first makeup class and straightaway the courses were fully booked.
There was a need for what we provided as our classes incorporated all skin tones.  I've had everyone from complete beginners to makeup artists, some have been in the businesses for years and were very uncomfortable when it came to makeup for darker skin tones; they've attend and completed our courses.  There was a severe lack of confidence and information on black beauty.
How long have you been in the industry?
Ten years next year.  The first job I went into was in TV.  I became popular as a makeup artist and made most of my contacts from being the person who always had foundation shades for darker skin tones.  I enjoy working in TV as the contracts last longer.  You can have a project that lasts for months; you are able to meet new people, build friendships and network.
As well as MiNK, you are the co-founder of Makeup Show Live.  Tell us more about the show.
Alongside MiNK, I wanted to reach a wider audience so that's what the Makeup Show Live is all about. We provide tips, tutorials and products to everyday women.  My heart is educating people and this is just one way that I am able to do that.
How has the growth of multimedia and social media affected your businesses?
In the early days word of mouth was our man driver.  I would definitely say that hands-on marketing works better for us. We have done magazine spreads and advertisements but word of mouth is still key.  We now have social media platforms; Twitter, Facebook and YouTube, but I don't think we are utilizing these networks to the fullest.  It has been useful in spreading the brand message.  We also use our makeup and beauty events to promote our work and our ideas. We have been doing events since 2010, when we invited Sam Fine (renowned celebrity makeup artist and master of makeup for African-Americans) to MiNK to host a seminar and private makeup master class.  In 2015 we will be launching our first ever London Beauty Festival.  We as a business are growing, we now encompass hair and beauty courses, so our events have to mirror this growth.
You have recently launched a book called 'Mastering Eyes'.  What made you write the book?
Yes, I released 'Mastering Eyes' in August 2014 as a response to the popularity of MiNK's eye makeup classes.  The eye makeup master class is always oversubscribed, as all women want to make their eyes look pretty.  As part of the course we developed a handbook for students, but it was quite thick and it had many pages so I thought "why not turn it into a book?" and that's exactly what I did.  I worked on it for a few months and then the book was born.  Students on our eye courses now get the book for free, but it is also available for anyone to buy online on Amazon.
Who is the book aimed at and what can people learn from it?
It is for all women who want a simple guide to eye makeup application.  Even if you don't wear a full face of makeup, everyone benefits from adding a little something to the eyes; from mascara to a little eyeliner.
There are similar books out there, yet unlike other books, my book has easy steps that everyone can understand.  The key is explaining each step.  If you tell people why they are doing it they can grasp the rest.  The book will provide you with information specific to you and your makeup needs.  Like YouTube channels, I always say to people; "follow someone that looks like you otherwise what works for them won't work for, or suit, you".
As a member of the Black Women in Europe Power List this must be a proud achievement.  How did it feel and how do you think more Black women in Europe could reach your level of success?
I was surprised with the listing as I was still developing.  It followed the Sam Fine event at the end of 2010.  I was contacted by Adrianne and she said she wanted to put me on it.  At that stage I thought it was very premature, but it encouraged me to keep going.  Pressure encourages you to do more and it is highly motivating.  The pressure that other people are looking up to you is a great driver because you don't want to let them down.
What are your personal ambitions?
To be happy, wealthy and healthy...no, actually at this stage in my life, my health and wellbeing is a priority.  Health is one of those things that people need to care more about.  Secondly, I would say happiness; by that I mean with family and love, both need to be in a good place.  After that comes wealth.  I want to be abundantly wealthy!  I want to be successful, I'm talking billionaire status.
I want the nice house, the nicer car, my children in private school...I want to be rich.
I also have the ambition of owning my own school.  I have been looking to set up a primary school because I feel our culture needs to take charge of our own learning.  Black people use both left and right sides of the brain's hemisphere when learning and so need to be stimulated in multiple ways.  I know that I learn best when I can see, hear and touch.  I feel that schools do not grasp this and when a black child is not engaged with the learning, they put it down to the child being difficult or stupid.  Yet they rarely look at the teacher and question the material they are using as stimulus.  The other problem is that we don't learn enough about our own culture and it is at a young age, before we know much about the world, or are influenced by it, that this needs to be taught.
What are your 3 keys to success?
The most important key is to celebrate yourself!  My father told me that.  Be happy with all of your decisions.  Tell yourself how great you are because if you don't, then no-one else will.
Secondly, always be receptive to experience and learn new things, otherwise you will never grow.
Thirdly, don't be scared of failure.  Many of today's most successful people have failed multiple times before finally getting it right.  Don't be in too much of a hurry and enjoy the ride.
What achievements are you most proud of?
Every achievement!
I am proud I have a degree, I am proud I have a Masters, I am proud I had a vision and started something there was a demand for and that I believed in.  I saw the gap and did something about it.  Recently, I am proud of my book 'Mastering Eyes' and I have already started on my second.  I'm proud of my column in Nigeria Watch newspaper.
I try to celebrate every little achievement, even acquiring new pieces of information, I am proud I have acquired that knowledge.
You can purchase 'Mastering Eyes' by Funmi Odegbami at www.amazon.co.uk
---
Images courtesy of Funmi Odegbami and MiNK London.