We Need New Dolls: American Artist Tells Women 'You Are Beautiful, Too!'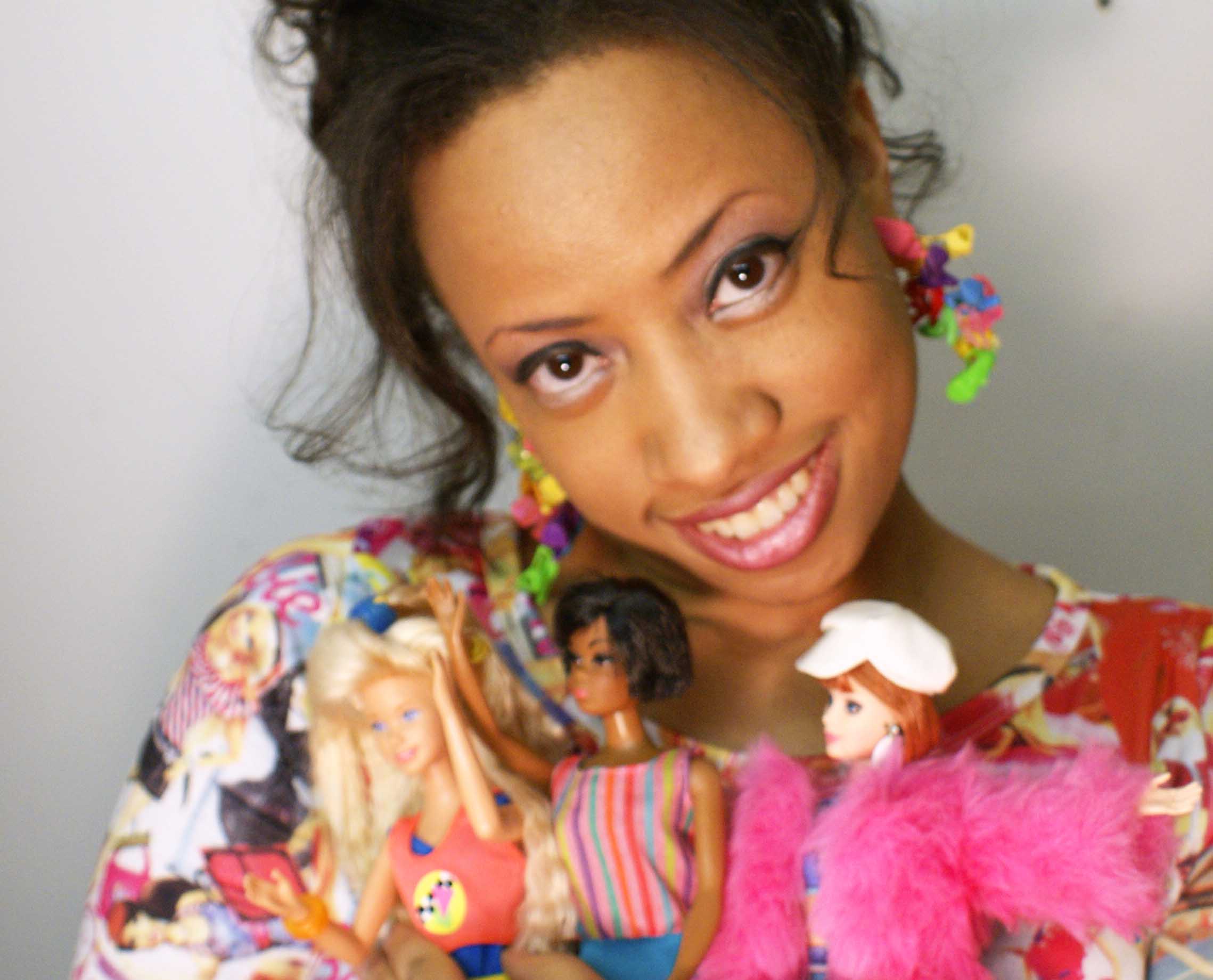 When Solange Knowles married her long-time love in New Orleans, Louisiana, late last year, Swedish artist Ronny Larson quickly replicated the most stunning wedding portrait Knowles released to the public. Larson's artistic project featured toy fashion dolls arranged to stand in for Knowles, her sister Beyonce, their mother Tina and their Black female guests in a group shot. Unlike the wide-ranging kaleidoscope of complexions and tableau of hairstyles in the original photograph of the real people, the Larson installation features a few brown dolls. It shows primarily straight hair texture and thin body types.
When Trinidadian-born recording artist Rihanna debuted a fluffy pink candelabra-style ballroom gown at the 2015 Grammy Awards this February, Los Angeles-based cake artist Claire Thomas of Kitchy Kitchen responded quickly with a 'Dolly Cake' based on the dress. Oddly, the doll who anchored several layers of hundreds of buttercream puffs to simulate the dress's design did not resemble Rihanna. It appeared to be a white doll.
Nigerian artist Taofick Okoya was so disturbed about the lack of diverse skin colour, body types, dress and hair types available for doll gifts to his nieces he began 'Queens of Africa' a line of 'Black Barbies.' His dolls now outsell Barbie in Nigeria and are fast spreading around the globe. The dolls' tribal apparel and traditional natural hairstyles initially turned off potential merchandisers. Today, Okoya sells 6-9,000 dolls a month.
And now, in America, a Black female artist takes on this complex irony. With so many women and girls raised on Barbies and holding many beautiful memories for dolls engineered to look opposite of them, is there a way to promote individualised appearance-love and a healthy body image no matter how the dolls girls hold may look?
Tiffany Gholar is a painter, interior designer and installation artist based in downtown Chicago, just steps away from its famed Magnificent Mile fashion shopping district. AfroNoire visited her inside the city's Fine Arts Building, an architectural landmark. Her block color and bright rainbow-themed Studio 632F offers a more organized, feminized version of Jackson Pollack to contemporary art lovers seeking chromatic chaos and color play. Gholar exhibits throughout Chicago, and is profiled in Chicago Reader. An Interdisciplinary Studies major at University of Chicago with masters in painting and interior design, Gholar subverts fun, inviting artwork with powerful social commentary.
"Normally it is men who look at women and decide how to paint them and make them appear, and we rarely get to do that for them." Gholar says of her decision to reverse the male gaze on women's bodies, to make statements about the polluted tropes of an 'ideal'.
Gholar's childhood pastime collecting Barbie dolls birthed one of her most full bodies of work to date: 'The Doll Project,' an integration of critical essays and memoir with digital photography of her installations. THE DOLL PROJECT book traces Gholar's inspiration from heartbreaking portrayals of Karen Carpenter (an American recording artist who died of anorexia) and observations of sex role assignments to women across cultures, as well as historical insight on women's development from chattel to commodified models today.
THE DOLL PROJECT book's collage work and digital photography reflect Gholar's sensitive and highly personal journey to the visual imaginings found in her studio. In the book's introduction, she writes: "As a young woman dealing with my own issues of body image, I began to look differently at Barbie dolls. I began to wonder whether my re-emerging interest in fashion dolls was a good or a bad thing. And the more I confronted my own disordered patterns of eating and exercise, the more I realized the extent to which social pressure to conform to such stringent standards was the real issue I was facing."
Gholar's companion images visualize her revelations within relatable contexts (a blonde child Barbie stands on a scale as her mother approvingly looks on, a Calvin Klein-clad brunette reads fashion magazines and appears to crash down in 'My So-Called Diet.') One of the collection's more eerie images features a nearly emaciated Black female model on a runway, with skeletal legs and severe pullback hairstyle framing her oversized face.
Gholar is emphatic about keeping bias out of her project. Rather than show preference for darker skin and larger body types, the models least shown in media and most vulnerable to societal bias, Gholar's photographs and installations do not discriminate.
From her work on 'The Doll Project' comes her 'You Are Beautiful Too!' products available online, framing dolls of diverse appearance in tic-tac-toe tableaus and sets.
Gholar shows dolls who appear to possess more "ideal" characteristics of beauty, such as straight hair and thinner bodies, who may still suffer from society's perfectionist messages. The point is for any woman to see herself in the art since, no matter how we look, we all need dolls.
---
*All 'The Doll Project' photographs courtesy of the artist. To learn more about Tiffany's artwork and THE DOLL PROJECT book, you may visit her at www.TiffanyGholar.com