Ilé La Wà (We Are Home) with Tolu Agbelusi
Tolu Agbelusi is a Nigerian British, Poet, Playwright, Performer, Educator and Lawyer, shortlisted for the 2018 White Review poetry prize and is a great example of determination and achieving great things!
AFRONOIRE had the pleasure of interviewing Tolu about her UK regional tour of her play Ilé La Wà, which tackles immigration, deportation and the Windrush scandal. We talked about her career, her childhood aspirations, what it feels like to be a black woman in white spaces and tips for aspiring poets.
Hi Tolu! You do so many great things. Which is incredible! How did you transition from being a Lawyer to a Poet and Playwright?
There's no transition. I'm still doing all of it! I still work full-time and I'm hoping to transition out, but it hasn't happened yet. The writing was always there. It was my way of dealing with things and a way to process my thoughts. With law, I'm writing things all the time. I don't think I ever formally saw the links between things until a few years ago, when I was in Anguilla and I was summing up cases. I suddenly felt that the comments I got from people who heard me sum up, were the same comments I got when I performed poetry. I'm always telling a story, whether it's poetry, law or a play. I'm always up for a new challenge, so for me, poetry to playwriting was about how I write a longer story and learn a different technique.
As children, we all had ideas of what we wanted to be when we grew up. Did being a Lawyer or a Writer ever come to mind or was there something else?
I don't think they did! I mean, I'm Nigerian, so you always have that Doctor, Lawyer [idea] floating around - so that was a consideration. I remember watching Annie and I wanted to own an Orphanage. That's what I wanted to do. Then when I eventually went into law, the first thing I did was Family Law, which goes back to the infant idea, because I always wanted to do something that pulled other people up and help people realise their power.
Your play Ilé La Wà tackles immigration, deportation and the Windrush scandal. How can we continue to have this conversation?
I initially did the play in 2016 and the [Windrush] scandal didn't break for another two years. It was still relevant to people then because those things were happening, they just weren't being talked about [in the media]. It broke in 2018 and people were like "Oh my gosh, you did that two years ago." Doing the play and talking about things that aren't in the media keeps the conversation alive. I also do workshops for this purpose, so that people can see it doesn't end when the media stops talking about it. I think we need more plays and more stories, talking about things that are not supposedly mainstream but which affects a lot of people.
You run a program for black writers under 30, to get them involved in poetry — why is this important? Have you ever felt the need to compromise who you are in predominantly white spaces?
In the legal sector, I have definitely felt this. The problem is not that it's too white, the problem is that you don't see me, because I don't fit into the culture. I've had times when I've gone to interviews and I've had to wait to do something to my hair, just so that I don't look too 'other' for them. I've had conversations with white friends who don't understand how that is a thing! I guess you can say that's a bit of a compromise, if I'm thinking, how do I present as opposed to just presenting how I am? I just am, who I am. What that means though is that I probably don't get things as easily as I would have gotten, if I did present otherwise. So it's also about being able to deal with the consequences of: I'm just going to present as me, and if you take me, it's because you wanted me as opposed to the contrary.
When it comes to the workshops and the decision to do it for black young poets, I wanted to create a space where I was giving what I wish I had. I also wanted to give people a voice who were not being propped up. I want to give young people a place where they can have a community. I see other people have their communities that they can tap into and we don't do that enough. I do workshops for everybody as well.
What advice would you give to upcoming poets and playwrights?
You need to research whatever it is that you're doing. If you want to be a poet, you need to read poetry and listen to it. Do both, not just one. For me, it's about becoming intentional. There's no substitute for putting in the work.
What have you learnt on your journey so far? And how are you feeling about your tour?
I've learnt that there's always more in me and I've learnt to trust my instincts better. I've also learnt that things will happen in their own time and that I shouldn't be comparing myself to other people. I wanted to put out a poetry book, maybe 10 years ago. I'm happy I didn't because the quality wouldn't have been something that I'm happy to look back on. Now, my first book is coming out next year and I'm happy about the work. I've learnt that God will work my life out in his own time. I'm excited that we're going on tour. The cast is good. We're looking forward to it!
You're releasing your book next year. What else is in the pipeline?
I'm trying to do some research around my next project. I'm hoping to write a new play and do other artistic outputs that relate to that. Something to do with women and conditioning. It would involve travelling and speaking to people in different parts of the world. I'm doing Lagos Poetry Festival in October. I'm looking forward to that. I've got to see what life throws at me!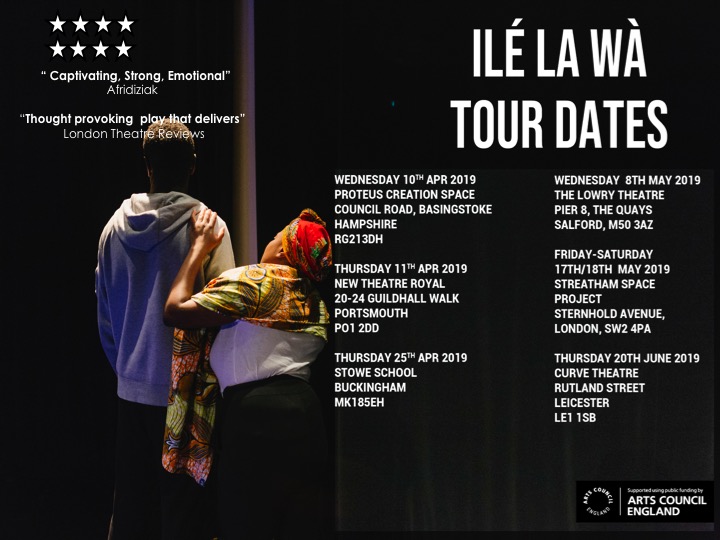 Ilé La Wà, which means 'We Are Home' in Yoruba, (a Nigerian dialect/language) is based on real stories from interviews, workshops and media accounts. It is a defiant affirmation that says 'nobody gets to tell me where I belong'. Directed by Anni Domingo, Ilé La Wà, starts a 6 city regional tour at the Proteus theatre in Basingstoke, April 10, 2019.